ProEstimate Heavy System Backup 
Recently one of our long-time customers suffered a catastrophic crash of his laptop. Fortunately, He had established an Automatic System Backup for ProEstimate Heavy. Once he had acquired his new laptop, we were able to restore all of his data from his most recent backup. The entire process took less than 10 minutes in an on-line "Go to Meeting" session. In order to take advantage of this invaluable feature follow the below instructions.
On the program preferences tab screen, select the "Back-Up"  tab. There are two types of back-ups that the system implements.
(1)    Project Backups – are backups that the system makes of all the data for the currently open project as you are working in the estimate. We recommend a setting the "Auto Save Every" setting to "5" minutes.  Using this back up you will never lose more than a couple  of minutes of work, even if you accidentally delete or change data by mistake.
(2)    System Backups – are backups of the entire system that include all projects and all databases.  In a network environment, only one system should be configured to preform system backups.  We recommend that you set the "Auto Sys Backup Every" setting to "2" days.  ALSO, we recommend that you set the back up path to a location different from where the data normally resides.

You can restore data from either project or system backups.  You can also restore individual pay item data from the project back up files.  From within the estimate AND in the pay item you wish to restore, select the "Restore One Pay Item" from the "File" menu.  You will then see the screen shown below.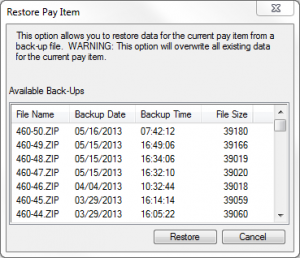 This screen lists all the backups that are available for the current project sorted by date with the most recent date at the top.
If you ever need to restore data, it will be just a few clicks away.
If you have any questions, need addition information or have an idea for a future tip, please feel free to give us a call at (800) 541-0803 or email us at admin@omanco.com.